Oven baked apples are one of the simplest, most naturally delicious dishes you'll ever come across. We often ate this dish for breakfast as children. Now I enjoy baked apples more as a dessert sprinkled with cinnamon. Whenever you serve them, these baked apples will be gobbled up as soon as they hit the table!
This dish is a specialty of northern Greece with its beautiful orchards and you'll find many different versions in Greek cooking. Some variations call for whole, cored apple, some sliced and others for halved with skin on.
Key to this recipe are fresh sweet apples. I like to use a nice firm Macintosh or Princess best. I wouldn't suggest using apples from the delicious family as they don't seem to bake up as nicely.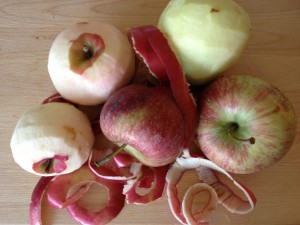 Ingredients
6-8 medium apples
chopped walnuts, golden raisins, cinnamon for toppings
Cooking Instructions
Peel, core and slice your apples thinly. 6-8 medium apples yield about 2-2 1/2 cups cooked apples so it's simple to scale recipe according to your needs.
Arrange slices in layers in an ungreased, non-stick pan.
For 6-8 apples, I use an 8×8″ pan. When doubling the recipe I use a 9×13 pan.
Cover pan tightly with aluminum foil.
Bake in 400 degree oven for 15-20 minutes until apples are soft.
You won't need an ounce of sugar as the natural sweetness comes out in the baking. I love this topped with chopped, toasted walnuts and sweet, plump golden raisins.   Try oven baked apples with different toppings and make this a regular in your kitchen!
Our Yiayia had apples trees in her backyard. We'd gather an armful, sit at the table in her big yellow kitchen and peel, core and slice apples while Yiayia told us stories of years past.  Not an overly sentimental woman, she once paused as we were working and told us that she missed our Papouli most when she was peeling apples as she could picture him at the table with his pocket knife peeling as many as she needed.